100th Anniversary Events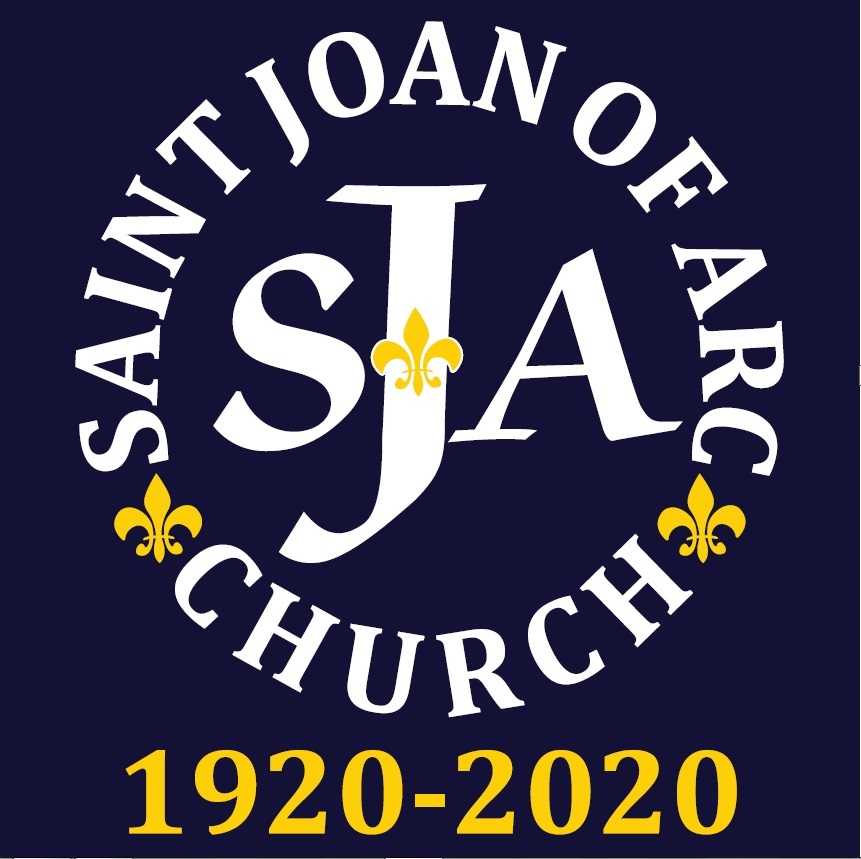 Well that didn't go as planned!
2020 has really thrown a wrench into our well thought out plans to celebrate our 100th Anniversary. We are starting to put together some thoughts about dates and times to reschedule some of the events that we were unable to have as originally scheduled. We still plan our St. Joan of Arc Memory book, the New Statue Dedication, our Anniversary Mass with Archbishop Lori and lots more. We'll let you know as soon as we know. Thanks for hanging in there with us as we work through to a better time.
2020 marks the 100th Anniversary of St. Joan of Arc parish, an impressive milestone and testament to the strength and perseverance of our parish community. Our theme is:
"Remember, Renew, Rejoice"
The 100th Anniversary Committee is made up of approximately 15 parishioners who are making plans to make this 100th year extra special.
CELEBRATION DETAILS:
Spirit wear is available to order. Hats, shirts, jackets, etc...will give you the opportunity to share with all this special occasion. Contact the office if you'd like to find out how you can place an order.

100th Anniversary St. Joan of Arc Christmas Tree Ornaments will be distributed on the weekend of the First Sunday of Advent. Extras will be available for purchase. A great stocking stuffer for former students and family that have moved from the area.
100th Anniversary St. Joan of Arc 2020 Calendars will be distributed on the weekend of the Fourth Sunday of Advent. One per family please.
Trip to France: Following in the Footsteps of St. Joan of Arc with Fr. Willie
For Trip Registrations Call:Jennifer Wadsworth, Manager612-730-2890
Advent Lessons and Carols: Sunday, December 15 at 6:30PM. Catch your breath in the hectic runup to Christmas!
OTHER ITEMS IN THE WORKS:
· We have started the 100th Anniversary Memory Book which will include pictures of our families, our ministries, some interviews and candid photos taken over the years. Distribution of the book will take place in early 2020.

· A new St. Joan of Arc Statue with landscaping will be placed on the campus commemorating our 100 years.
· A Lenten Mission is being planned with a guest speaker who will return at Pentecost. The dates for this event are March 15, 16 & 17, 2020 and then again May 31, 2020.
· April 2020 parishioners will be given the opportunity to share their talents during a talent and art show in our hall – Family Fun Night.
· Sunday, April 26, 2020 at the 11:15AM Mass, Archbishop Lori will be with us to celebrate our 100 years and to bless the new statue.
· Community projects will take place throughout the spring and summer for the city of Aberdeen and will involve the youth of the parish as well as the Knights of Columbus.
· We will finish this yearlong celebration with a Gala at the Restaurant at Bulle Rock on Saturday, November 7, 2020. Tickets for this event will go on sale at the beginning of the year.

Keep an eye out for updates on all of these exciting events in the bulletin and follow our social media pages. Call the parish office with questions.