Welcome From Fr. Willie
Hello!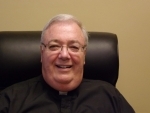 I would like to welcome you to St. Joan of Arc Parish in Aberdeen, Maryland. The parish was established in 1920, and is 100 years old. The parish has grown from a handful of parishioners to a warm, welcoming community of 400 families. St. Joan of Arc School is also part of the parish and offers a Catholic education for Grades Pre K-4 through 8th Grade. The school is a certified STEM School, and I invite you to come and visit the school and its students.
We aim to live the gospel message and to be Missionary Disciples in the communities of Aberdeen, Havre de Grace, and Churchville. Our motto is: Jesus invites, St. Joan of Arc welcomes. If you are seeking a welcoming parish, you will find it here at St. Joan of Arc.
On behalf of the whole community at St. Joan of Arc, I welcome you to the parish and invite you to explore our website to help you have more information about us.
I also invite you to become involved in the life the parish through the ministries and events we have on offer. Come and get to know us ... we can't wait to welcome you and get to know you!
Every blessing,
Fr. William Franken
Pastor