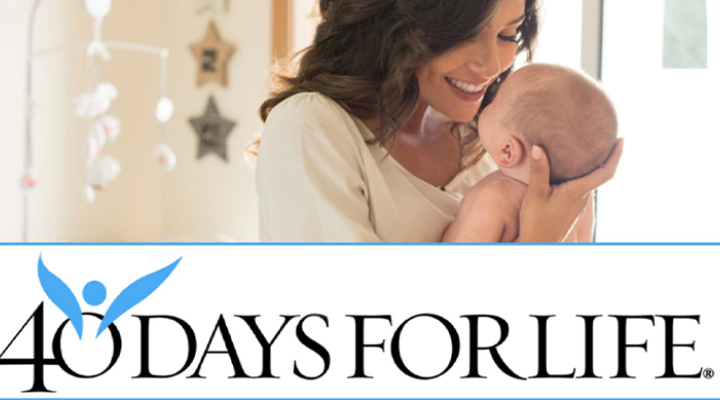 40 Days for Life
Peaceful, prayerful, effective 40 Days for Life campaign kicks off with Wednesday 17 February at 6 pm rally
Fullerton, Maryland – "We truly pray that this 40 Days for Life campaign will mark the beginning of the end of abortion in Fullerton," said Diane Alvarez, who coordinates the local effort. The kick off rally will be on 17 February at 6 pm at the sidewalk in front of the Belair Beltway Plaza, 7600 Belair Rd, Fullerton, Maryland. We are please to have Rev Robert Kirk opening our rally in prayer. Father Kirk is the Parochial Vicar from Christ the King in Towson, MD. Also, joining us is Molly Sheahan from the Respect Life Office at Maryland Catholic Conference.
Fullerton is one of 1,000 cities from coast to coast conducting simultaneous 40 Days for Life campaigns from February 17th through March 28th, from 7 am to 7 pm. "We start this effort by drawing members of the community together to share the vision of 40 Days for Life and to pray for God's blessings on this effort. It is time to focus attention on the harm abortion has done to our city," said Diane.
"This will mark the start of 40 days of prayer and fasting, with special attention to prayer in the public right-of-way outside the abortion facility at Whole Women's Health located in the Belair Beltway Plaza, as well as various types of community outreach. We look forward to seeing what kind of transformation God will bring about in our city," said Diane.
All prayer vigil participants are asked to sign a statement of peace, pledging to conduct themselves in a Christ-like manner at all times. Pledge forms can be found on the website (address below) and should be emailed to the leader or given to her at the kick off rally.
40 Days for Life is a peaceful, intensive campaign that focuses on 40 days of prayer and fasting, 40 days of peaceful vigil at abortion facilities, and 40 days of grassroots educational outreach. The 40-day time frame is drawn from examples throughout Biblical history where God brought about world-changing transformation in 40-day periods.
For information about 40 Days for Life in Fullerton, MD, visit: www.40daysforlife.com/fullerton For assistance or for more information, please contact Diane Alvarez at 40daysforlifefullerton@gmail.com or call (410) 652-0110
For information about our SJA parish Respect Life efforts and if you'd like to join us as a prayer participant for SJA's efforts at the Fullerton location, please contact Nancy Schmidt at newtnts@yahoo.com or Deacon Ray at rvanpelt@stjoanarc.org