Update from the Maryland Catholic Conference (MCC)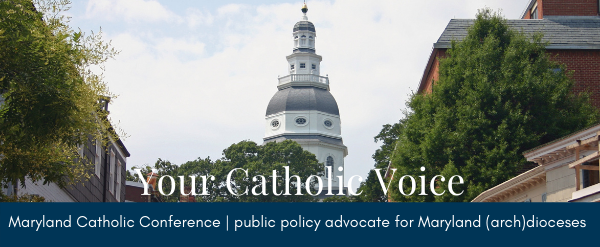 The General Assembly wraps up its annual legislative session in just two weeks. Right now, the main focus is on committees. Most bills have passed from one legislative body to the other (Senate to House or House to Senate) and are being considered by committees in the second chamber.
Others have moved on to conference committees. A conference committee has six members, pulled from House and Senate, who work to resolve differences in a bill. The committee issues a report. If it is accepted by both chambers, the bill goes on to a final vote. If not, the bill may be sent back to conference committee or left to fail.
After passage by House and Senate, most legislation goes on to the Governor. He has 30 days to veto a bill. If he doesn't within that time frame, a bill becomes law. There are a couple of exceptions to this process. Budget bills become law upon final passage and cannot be vetoed. Also, the governor cannot veto a constitutional amendment.
The process can get complicated, so here are some great resources from the Maryland General Assembly:


Legislative process (see the second page for a simple graphic)
Bills by chamber

If you are interested in a bill, you can watch its progress. Testimony from the Maryland Catholic Conference is online here, and each includes a link to the bill tracking page. Click "history" on that page to see how it has moved along.

Legislation we are still monitoring include a number of bills on education (including BOOST funding), environment, juvenile justice, police reform and pro-life issues.