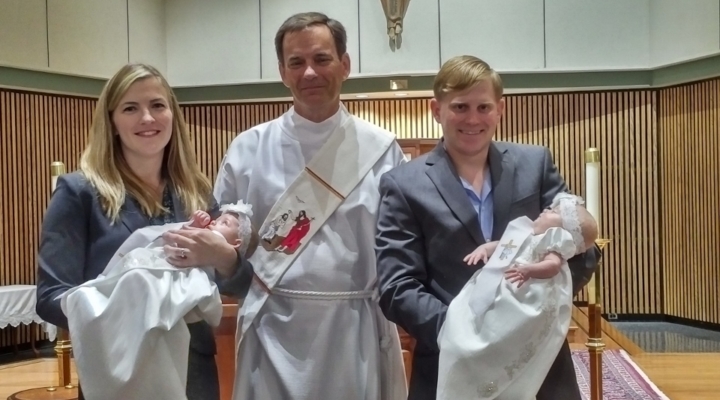 Baptism
Baptism of Infants & Children
The Baptism of a child is a joyful event for the many generations of a family. It is a time for the parish community to welcome a new member to Christianity, as well as to renew the faith commitment of the whole rest of the family.
Requirements
An intention to actively raise the child in the Catholic Church
At least ONE parent who is a baptized Catholic and actively part of a Catholic parish
At least ONE godparent who is also an active, practicing Catholic
Process Guide
Step 1: Call the parish at (410) 272-4535 to schedule an initial meeting with a staff member. The purpose of this meeting is to fully understand what it means to raise your child in the Catholic Church, and to identify and begin required paperwork and documentation for the Baptism.
Step 2: Attend 2 - 3 Baptismal Preparation sessions (currently conducted virtually due to COVID-19)
Step 3: Schedule a time for the baptismal ceremony, which can be done during or after a Sunday Mass - generally on the First Sunday of the month except during the Advent and Lent seasons.
Needed Documentation
A valid birth certificate for the child
Completed parish paperwork, including Parish Registration if living in the Parish
The Catholic godparent should be able to provide an endorsement from a Catholic Pastor confirming their active status
Everybody's situation is different, so additional documentation may be required based on your particular needs and circumstances. This will be addressed at the initial meeting.
Other General Information
Children under the age of seven are presented for Baptism by parents and Godparents. In doing so, the adults speak for the child in professing the faith. Solemn promises are made to faithfully continue the formation of the child in the Catholic Community. Parents who ask that their child be baptized are invited to participate in a process that will help them fulfill these promises and equip them to grow as a Christian family. Regular Mass attendance is expected along with meetings for parents and godparents. School age children will attend Mass with their parents and participate in the Children's Liturgy of the Word. Additional instruction for children will occur through Family Faith Formation in the home. Children over seven will also be prepared to celebrate their First Eucharist.