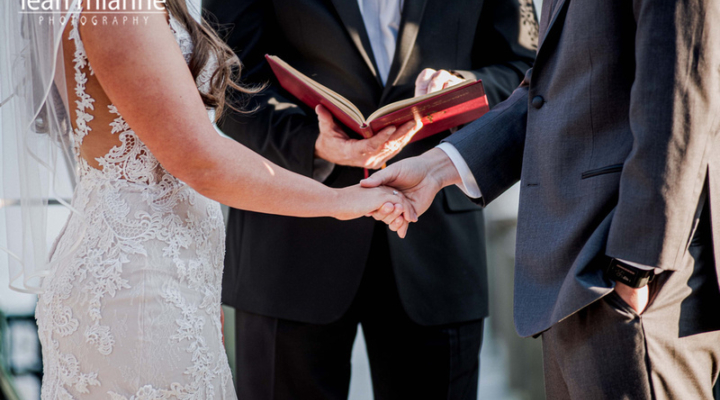 Marriage
Marriage and Preparation
At St. Joan of Arc we are ecstatic when couples want to be married in the Catholic Church!!! We ask that prospective couples contact our staff six months ahead of time. Getting ready for a wedding has two key components: wedding planning and marriage preparation (Pre Cana).
Wedding planning is coordinated between the couple, the Priest/Deacon and the parish staff. This includes reserving the Church, planning the liturgy, arranging for music, flowers, etc. Please contact the Parish Office at 410-272-4535 to start the process. Note that couples are now permitted to be married in a Catholic ceremony outside of a Church if the venue meets the Archdiocese of Baltimore guidelines. We will coordinate with the couple to assist in making these decisions.
Marriage Preparation or Pre Cana consists of learning opportunities and experiences to prepare the couple for the vocation of marriage. This involves participating in the "Beloved" series which is on the Formed website platform, and meeting other requirements. During Pre Cana the couple will meet with the Priest or Deacon to discuss the concepts of marriage and family.
Our Pre Cana program consists of:
- Pre nuptual investigation (done by the Pastor or Deacon)
- Attending Pre Cana, see: https://watch.formed.org/beloved-finding-happiness-in-marriage .
- Meet with a Priest or Deacon to discuss the Sacrament of Matrimony and married life
- Attending a Natural Family Planning seminar and take a personality inventory (based upon couple's situation)
- For more information check out the ArchBalt at: https://www.archbalt.org/marriage-tribunal/

Church Wedding fees are: $250.00 for parishioners and $500.00 for non-parishioners. (Fees for the cantor and organist are additional.)
Catholic Theology of Marriage: below are some "fundamental" beliefs of our Catholic understanding of Marriage

Scriptural Foundations for Marriage:
Old Testament/Hebrew Bible: Genesis 1: 26-28, 31, Genesis 2: 18-24, Genesis 24: 48-51, 58-67, Tobit, Proverbs, Song of Songs, Sirach, and the Psalms
New Testament: Matt 19, 1-12, Matt 5, 31-32, Luke 16:18, Mark 10, 1-12, John 2, 1-12, Eph 5:2, 21-33, Heb 13, 1-4, 1 Corinth 7, 1 Peter 3: 1-9, Rev 19: 1-9
Sacrament: The sacraments are efficacious signs of grace, instituted by Christ and entrusted to the Church, by which divine life is dispensed to us. The visible rites by which the sacraments are celebrated signify and make present the graces proper to each sacrament. They bear fruit in those who receive them with the required dispositions.
Sacramental Theology of Marriage
Marriage in the Catholic Church, also called matrimony, is the "covenant by which a man and a woman establish between themselves a partnership of the whole of life and is ordered by its nature to the good of the spouses and the procreation and education of offspring", and which "has been raised by Christ the Lord to the dignity of a sacrament between the baptized." Marriage is:
· A vocation, a call from God to live in a certain way
· Permanent, Faithful and Fruitful
· A covenant of love between the couple and God
· Sealed and strengthened by God and cannot be undone by man
· In God's plan of creation (Genesis) and in the Lord's plan for the Church
What are the Effects of the Sacrament?
· The sacrament signifies the union of Christ and the Church. It gives spouses the grace to love each other with the love that Christ loves His Church.
· The grace of the sacrament thus perfects the human love of the spouses, strengthens their indissoluble unity, and sanctifies them on the way to eternal life
· The Christian home is where children receive the first proclamation of the faith. For this reason, the family home is rightly called "the domestic church," a community of grace, prayer, a school of human virtues and of Christian charity…
Rite of Matrimony/Questions before the Consent
· Have you come here to enter marriage without coercion freely and wholeheartedly?
· Are you prepared, as you follow the path of Marriage, to love and honor each other for as long as you both shall live?
· Are you prepared to accept children lovingly from God and to bring them up according to the law of Christ and his Church?
The Consent: I, N., take you, N., to be my wife. I promise to be faithful to you, in good times and in bad, in sickness and in health, to love you and to honor you all the days of my life. (Roman Ritual, 2016)
Marriage Con Validations
Many Catholics are unaware that if they are married civilly but not in a Church wedding, their marriage needs to be validated by the Catholic Church. This situation can be easily addressed with preparation and coordination with our pastoral staff. Marriage con validations provide the couple a "valid" marriage in the eyes of the Church and remove any impediments to sacraments.
Annulments

We recognize that some marriages do not work out and unfortunately end in separation and divorce. A Catholic who has been divorced must receive an annulment from the Catholic Church in order to be married again in the Church. Annulments normally take six months to process -- but each annulment is unique. For those individuals needing an annulment from a previous marriage, contact Deacon Ray. Deacon Ray serves as an advocate for those seeking an annulment through the Archdiocese of Baltimore and he can advise you on how to begin the annulment process.
An annulment states that the enduring bond of the sacrament of marriage was never present from the beginning of a marriage. An annulment is necessary for Catholics who are in invalid marriages and for those seeking full communion with the Church in the Sacramental life. An Annulment enables a divorced Catholic (or a non-Catholic seeking to become Catholic) to marry again within the Catholic Church and to fully participate in the Sacramental life
Common Misconceptions about Annulments in the Catholic Church:
· It's a Catholic version of a divorce
· It makes the children illegitimate!
· Only Catholic marriages need to be annulled
· It takes five years and costs thousands of dollars!!
· A divorced Catholic is automatically excommunicated!!
· An annulment means the marriage never took place!
· You have to testify in person and see your ex again!
· You'll be able to "blame your spouse" again!!!
What's the Process? See the Archdiocese site at: https://www.archbalt.org/marriage-tribunal/
· Submit a petition to the Marriage Tribunal
· You'll be assigned an Advocate
· Everything is extremely confidential
· You'll have good people working with you and praying for you!

If you have any questions about marriage, annulments, or con validations, please contact Deacon Ray at rvanpelt@stjoanarc.org or call him at 410-272-4535, ext 111 to schedule an initial meeting.