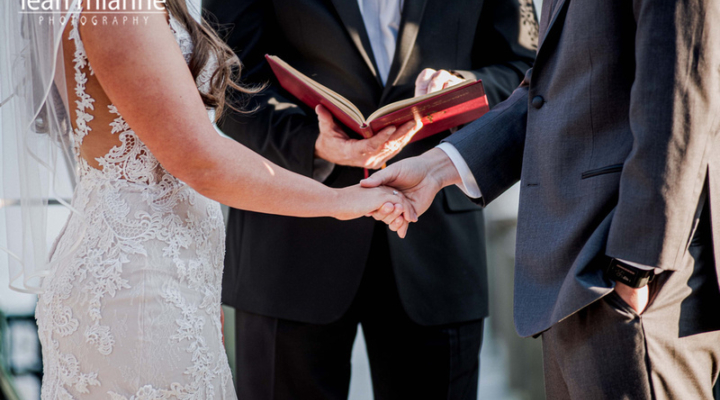 Marriage
Marriage and Preparation
At St. Joan of Arc we are ecstatic when couples want to be married in the Catholic Church!!! We ask that prospective couples contact our staff six months ahead of time. Getting ready for a wedding has two key components: wedding planning and marriage preparation (Pre Cana).
Wedding planning is coordinated between the couple, the Priest/Deacon and the parish staff. This includes reserving the Church, planning the liturgy, arranging for music, flowers, etc. Please contact the Parish Office at 410-272-4535 to start the process. Note that couples are now permitted to be married in a Catholic ceremony outside of a Church if the venue meets the Archdiocese of Baltimore guidelines. We will coordinate with the couple to assist in making these decisions.
Marriage Preparation or Pre Cana consists of learning opportunities and experiences to prepare the couple for the vocation of marriage. This involves participating in the "Beloved" series which is on the Formed website platform, and meeting other requirements. During Pre Cana the couple will meet with the Priest or Deacon to discuss the concepts of marriage and family.
Our Pre Cana program consists of:
- Pre nuptual investigation (done by the Pastor or Deacon)
- Attending Pre Cana, see: https://watch.formed.org/beloved-finding-happiness-in-marriage .
- Meet with a Priest or Deacon to discuss the Sacrament of Matrimony and married life
- Attending a Natural Family Planning seminar (based upon couple's situation)
Church Wedding fees are: $250.00 for parishioners and $500.00 for non-parishioners. (Fees for the cantor and organist are additional.)
Annulments
We recognize that some marriages do not work out and unfortunately end in separation and divorce. A Catholic who has been divorced must receive an annulment from the Catholic Church in order to be married again in the Church. Annulments normally take six months to process -- but each annulment is unique. For those individuals needing an annulment from a previous marriage, contact Deacon Ray. Deacon Ray serves as an advocate for those seeking an annulment through the Archdiocese of Baltimore and he can advise you on how to begin the annulment process.
Marriage Con Validations
Many Catholics are unaware that if they are married civilly but not in a Church wedding, their marriage needs to be validated by the Catholic Church. This can be easily done with preparation and coordination with our pastoral staff.
If you have any questions about marriage, annulments, or con validations, please contact Deacon Ray at rvanpelt@stjoanarc.org or call him at 410-272-4535, ext 111 to schedule an initial meeting.